On-Bike Storage
In recent years there has been a trend to reduce the amount of kit carried by riders on their back. The effect of the relatively weighty items held at a high point negatively affects the handling of the bike.
More than just a strap. By utilising a platform The Piggy and Little Piggy provide a stable base for storing ride essentials, because the platform stays in position when accessing the contents, access is easy, as is a fast getaway afterwards. The actual tool strap is adjustable for length leaving no exposed velcro to get clogged with mud.
Both feature:
Tough glass filled nylon platform.

50mm wide adjustable strap with capacity up to 95mm diameter.

Silicone band for band for organising tools prior to loading.

Location for chain quick link.
Designed and manufactured in the UK
Strap Mount or Direct Mount. The original Piggy's versatile brother can be direct mounted to bottle bosses or strap mounted anywhere on the frame. Despite it's name the Little Piggy has the same storage capacity as it's brother.
Direct mount. The platform of the Little Piggy bolts directly to bottle cage bosses. More and more manufacturers are adding extra bosses to their bikes which the Little Piggy can bolt to.
Strap mount. Instead of just using a typical Velcro strap to attach the Little Piggy to a frame we developed silicone rubber pads which are both super grippy and add shock absorption. Allied with a coated Velcro one wrap strap this Little Piggy is going nowhere!
Weight - 50g with strap and fixings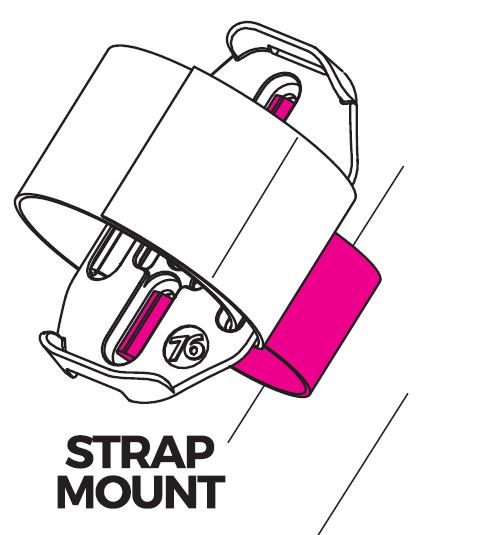 Integrated. The original Piggy locates your tools and spares neatly behind your water bottle. Perfect for hardtails, road and gravel (and a quite a few full suspension frames).
Unlike saddle bags it doesn't rattle, rub your seatpost, and does not block lights and cameras.
In order for The Piggy to fit many different frame designs the platform attaches to the frame's bottle cage bosses via slots. This moves the bottle and The Piggy up to 105mm forward of the position the bottle would be with the bottle cage bosses.
Weight - 72g with strap and fixings
How does the Piggy and Little Piggy compare to the alternatives?
1 = bad, 5= good
The base of the Dry Bag is shaped to match the platform of The Piggy and Little Piggy for a perfect fit.
The Dry Bag is 100% waterproof, so it's perfect for winter rides or using in an exposed position such as the underside of your downtube.
Wide opening for easy access to contents.

Many uses off the bike.

0.9L maximum capacity, 0.65L on the bike.

Weight 50g
Designed specifically for The Piggy and Little Piggy.
Water resistant - the material is waterproof but some water may get in via the zip or seams in very wet conditions.
Expandable capacity .

Lightweight.

Laser cut material.

Large zip pull for operating with gloves.

Capacity 0.5L maximum.

Weight 25g